News: Live Music is BACK!
New Music on the Horizon, Alligator Records signing, and other changes…
We are excited to report that Carolyn has been signed to Alligator Records! Carolyn has been a fan of the label all of her musical life; she loves, lives, and breathes artists from Hound Dog Taylor to Marcia Ball, and is looking forward to touring behind a new album this fall! More news coming soon! Read the press release from Alligator HERE
Carolyn has appreciated her time touring and recording with the legendary Godfather of British Blues, John Mayall, for the past few years. With Carolyn's new album on Alligator forthcoming, (and the heavy touring that will follow) John has decided to shine his light on another guitarist, adding the immense talents of Chicago's Melvin Taylor to the guitar position. 
"It was an honor to play with John Mayall these past few years. A life changing experience pushing myself to do my best to get inside all those songs, hear that beautiful voice and signature licks every night. Any day you get to hear John Mayall sing and play is a damn good day! I learned how to be a better musician and bandleader, and played more guitar than I ever had in my guitar obsessed life since joining the band in early 2018. John is so joyful and generous to play with. I love and will miss the camaraderie and crazy adventures with Greg Rzab and Jay Davenport, and I really look forward to running into y'all on the road with the amazing Melvin Taylor on guitar!
Thank you for everything to John Mayall, the #bestbossever "  
~Carolyn Wonderland
More tour dates are being added weekly! Check out the TOUR tab and come "revel in the vibratory waves of external unity" (to quote Uncle John Turner) when you can. 
We are jumping with joy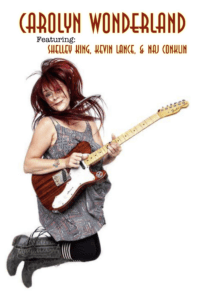 ...to report that live music is making a comeback! It was life affirming and beautiful to play for our long time family at our debut return show at Houston's legendary Last Concert Cafe. Thank you so much for that! We are taking our fully vaccinated crew and are ready to hop in the van with our pockets full of songs to share. Music. Absolutely alive! The touring band this Spring/ Summer will be Carolyn, Shelley King, Kevin Lance, Naj Conklin, and our amazing tour manager, Shelley Cox. (Of course, Fat Stanley will be riding the amplifier.) We are following CDC and all local recommendations; check with the venues for social distancing, testing, and mask requirements. Please be extra kind to yourself and to all the venue staff as we are all navigating our way back as best as we can!
MAY
Wednesday, May 19, Shelley King & Carolyn duo - The House of FiFi DuBois in San Angelo, TX
JUNE
Wednesday, June 2 the band will play a free outdoor shindig at Music on Main (Prete Plaza) Round Rock, TX
Friday, June 4, the band is getting back together and will play at the Levitt Pavilion Arlington, TX
Saturday, June 5, Shelley & Carolyn duo set (maybe a special guest...) at the Dreamfest Dreamland Dripping Springs, TX
Friday, June 11, Shelley & Carolyn play McGonigel's Mucky Duck in Houston, TX
*first tour starts!*
Monday, June 21 - City Winery Nashville, TN
Thursday, June 24 - Colony Woodstock NY
Friday, June 25 - Caffe Lena Saratoga, NY
Saturday, June 26 - New York State Blues Festival Syracuse, NY
Sunday, June 27 - Abilene Bar and Lounge Rochester, NY
More Carolyn Wonderland dates are in the works! Also, be sure to check www.JohnMayall.com for summer tour dates - starting at the end of July!
and... yes, Virginia, there will be a new album out this fall! Produced by Dave Alvin and engineered by Stuart Sullivan, that's all we can tell you at the moment. Well, that and THANK YOU for your support over the years! Hope to see you on the road...
(jumping for joy photo by: DHillsPhotography)
News: New Recordings and livestream shows!
"A musical force equipped with the soulful vocals of Janis and the guitar slinging skills of Stevie Ray, Carolyn Wonderland reaches into the depths of the Texas blues tradition with the wit of a poet. She hits the stage with unmatched presence, a true legend in her time." -Margaret Moser
We are missing the road! Music is the salve for our times. Here's some livestream shows that I hope you'll consider:

Sat, Oct 3 - 1pm CDT - Carolyn Wonderland's Farewell to One-2-One Bar FULL CONCERT PPV www.one2onebar.com

Wed, Oct 7 - *6:30pm CDT* (new time) - Concert Across America to End Gun Violence 2020 kicks off with Carolyn Wonderland, Jackson Browne, Bonnie Raitt, Wynton Marsalis, John Fogerty, Melissa Etheridge, Kevin Bacon, Bobby Rush, Tank and the Bangas, Rhiannon Giddens, Billy Strings, Camden Voices, Larkin Poe, Anders Osborne, and Cyrille Aimee. There's some great auction items, too! www.concertacrossamerica.org

Sat, Oct 10 - 8pm CDT Can't Stop The Blues presents the Benefit for www.HomeAustin.org re-tooled and ready to go, featuring Marcia Ball, Jai Malano-Ayers, Omar Dykes, Eve Monsees, Shelley King, Carolyn Wonderland, Sarah Brown, Rosie Flores, and Ruthie Foster. Followed by a full set from our hero and icon, Miss Lavelle White. Livestreaming at www.cantstoptheblues.com

Friday, November 27 tune in to our blowout fundraiser for www.HomeAustin.org Here's a great article about the event: https://www.broadwayworld.com/austin/article/Austin-Based-Nonprofit-HOME-Announces-HOME-COOKIN-FOR-THE-HOLIDAYS-Virtual-Benefit-20201006
HOME Cookin' For The Holidays is a virtual broadcast airing on the HOME Facebook page and on the KUTX YouTube Channel on Friday, November 27, from 7PM Central Time. You can watch the show in it's entirety (archived for your perusal at any time) right here: https://youtu.be/c2q30zreN7o
Our line-up includes Marcia Ball, Ray Benson, Marc Broussard, A. Whitney Brown, Sarah Brown, Gina Chavez, Charley Crockett, Jesse Dayton, Joe Ely, Mike Flanigin, Sue Foley, Ruthie Foster, Ray Wylie Hubbard, Kaz Kazanoff, Shelley King, Lisa Loeb, Jai Malano-Ayers, Raul Malo, John Mayall, Delbert McClinton, Eve Monsees, Tracy Nelson, Shinyribs, Irma Thomas, Kathy Valentine, Jimmie Vaughan, Jackie Venson, Vintage Trouble, Miss Lavelle White, Lucinda Williams, and Carolyn Wonderland. Turk Pipkin will be the emcee.
Sponsored by Juice Consulting, KUTX, Brown Distributing, and Jumper Productions.
There will be singing and cooking and cooking and singing. We will divulge secret recipes and share our takes on traditional favorites. Please join HOME in helping make the holidays shiny and bright for Austin's treasured older musicians.
Happy Holidays and Bon Appetit!
For more information, to apply for a grant, or to make a donation, visit us at www.HomeAustin.org
You can find Carolyn playing guitar in John Mayall's band on tour since 2018, and on his 2019 Forty Below Records release, "Nobody Told Me." Look for a new John Mayall release in the nearest future! John, Greg Rzab, Jay Davenport, and Carolyn just wrapped up with Eric Corne in Robby Krieger's studio in LA this past December.

Speaking of new recordings… Carolyn, Kevin Lance, and Bobby Perkins just finished tracking the next Carolyn Wonderland release in their hometown of Austin, TX at Stuart Sullivan's Wire Recording with Dave Alvin producing! "Holy whatnot, he just said yes!" is rumored to be Carolyn's first utterance after Dave texted he would, indeed come down and create and capture some joyously musical lightning in a bottle. We were super lucky to have Dave, Jimmie Dale Gilmore, Red Young, Cindy Cashdollar, Marcia Ball, Shelley King, and Jan Flemming all lend their extreme talents in the studio and we cannot wait to share it with y'all!  Look for that next spring. Fingers crossed, it will be accompanied by lots of tour dates!